Organization
Organizational Structure of the FSC
2018-09-26
The FSC is a central government agency established under the Executive Yuan as the competent authority responsible for financial supervisory policies and businesses, and it carries out its duties independently in accordance with the law.
The chairperson of the FSC is a minister appointed by the President on the recommendation of the premier. The FSC has two vice chairpersons, both appointed by the President on the recommendation of the premier, and six to 12 commissioners. The Minister of Finance, the Minister of Economic and Energy Affairs, and the Minister of Justice shall serve as ex officio commissioners, as shall FSC commissioners who had been appointed before the amendment to "Organic Act Governing the Establishment of the Financial Supervisory Commission" enters into force (until the terms of their original appointments expire after the amendment to this Act enters into force). The other commissioners shall be appointed (or retained) by the Premier from among the heads of related government agencies as well as persons with academic expertise or work experience in a relevant field, to serve in a concurrent capacity. The term of any commissioner serving as the representative of a government agency shall begin and end when his or her position at that agency begins and ends.
The FSC comprises four departments, four offices, four bureaus, a government-owned business, and two Representative Offices, as follows:
◆Departments: Planning; International Affairs; Legal Affairs; Information Management.
◆Offices: Secretariat; Personnel; Accounting; Civil Service Ethics.
◆Bureaus: Banking; Securities and Futures; Insurance; Financial Examination.
◆Government-owned business: Central Deposit Insurance Corporation
◆Representative Offices: Representative Office in New York, Representative Office in London.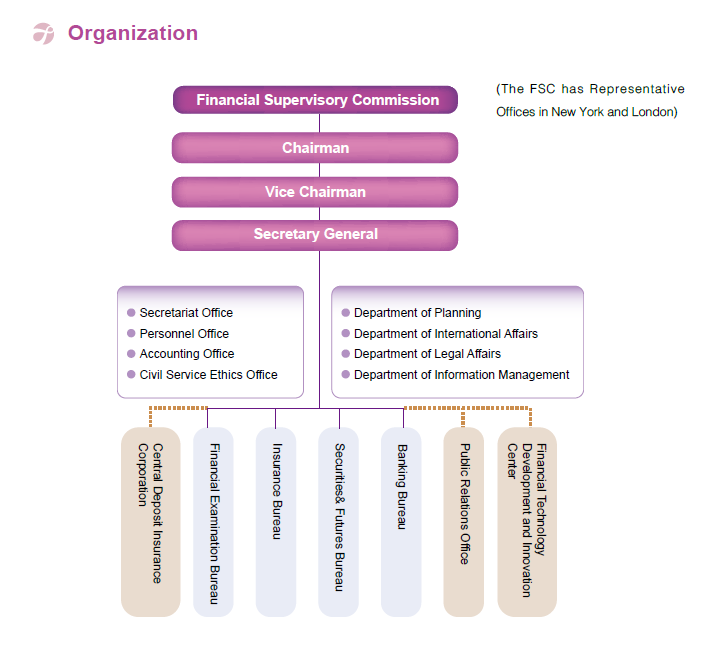 Visitor: 24696
Update: 2019-03-25