FSC Chairman Wellington L. Koo leads a mission to Europe to reinforce financial supervisory cooperation with France, Germany, and the U.K.
2019-07-16
The FSC proactively pursues the signing of Financial Technology cooperation agreements with foreign competent authorities and continues to promote international bilateral financial supervisory cooperation and has achieved major results recently. In the second week of July this year, FSC Chairman Wellington S. Koo led a delegation to France and signed a FinTech cooperation agreement with the Autorité de Contrôle Prudentiel et de Résolution (ACPR). He then traveled to Germany to strengthen cross-border supervisory cooperation on banking and insurance industry with the Federal Financial Supervisory Authority of Germany (BaFin).
The agreement with the ACPR was the third FinTech cooperation agreement the FSC has completed since 2018. Currently, Taiwan-France financial cooperation is also advancing rapidly as a result of the promotion of this agreement. The FSC has conducted a series of industrial cooperation and exchange events on FinTech with the Bureau Français de Taipei; these included inviting the Managing Director of France's largest FinTech incubator and accelerator Le Swave to come to Taiwan to take part in the first France-Taiwan FinTech Summit on May 28 this year. At this Summit, FSC Chairman Wellington L. Koo also witnessed in person the signing ceremony for two Fintech MOUs signed between the Taiwan Financial Services Roundtable and the Bureau Français de Taipei and Paris&Co., respectively. In this trip, Chairman Koo signed the FinTech cooperation agreement between the FSC and the ACPR, which was witnessed by Taiwan's representative to France, François Chih-Chung Wu; he also had discussions with senior officials at French major financial authorities, including Mr. Denis Beau, First Deputy Governor of the Banque de France and Chairman of the ACPR, and Mr. Robert Orphèle, Chairman of the Autorité des Marchés (AMF), on important supervisory issues such as FinTech, cryptocurrencies, green finance, and bilateral banking supervision.
The content of the FinTech cooperation agreement signed by the FSC and France's ACPR includes a bilateral supervisory agency referral mechanism and information sharing etc. After signing, on its basis, each side can now refer FinTech startups to the other side through their respective FinTech departments, provide assistance to allow startups on each side to obtain an understanding of the other's supervisory system, and share information relating to market and financial services innovation in Taiwan and France. This will promote bilateral supervisory cooperation in the area of FinTech, create more opportunities for FinTech businesses in Taiwan and France, and promote the development of the international market for financial innovation on both sides.
Frankfurt is a major financial center in continental Europe. The forerunner of the FSC's Securities and Futures Bureau, the Ministry of Finance Securities and Futures Commission, signed an MOU on securities supervisory cooperation with the Bundesaufsichtsamt fur den Wertpapierhandel in Frankfurt, which later assimilated into BaFin, in 1997. Because Taiwanese and German banks and insurance firms have established presences in each other's countries and Taiwan-Germany bilateral financial ties have become closer, and due to the expectation that there will be greater demand from Taiwanese financial institutions to establish a presence in continental Europe after Brexit, the FSC recently has proactively promoted supervisory cooperation on the banking and the insurance industries with BaFin to make the scope of financial supervisory cooperation between Taiwan and Germany complete. In this itinerary, Chairman Koo, accompanied of Taiwan's representative to Germany, Jhy-Wey Shieh, exchanged in-depth views on related supervisory and cooperation issues with senior officials at BaFin.
Considering that five Taiwanese banks now have a presence in London in the form of branches and that Brexit is imminent, with the assistance and arrangement from Taiwan's representative to the U.K., David Yung-Lo Lin, Chairman Koo also paid a visit to the Prudential Regulation Authority (PRA) and met with its CEO Mr. Sam Woods in London to discuss countermeasures for Brexit and PRA's current important measures and regulations, enhancing bilateral interaction and supervisory cooperation between the FSC and the PRA. Chairman Koo also met with the managers of the branches of Taiwanese banks and securities firms in London for discussions with the aim and expectation that these overseas branches can enhance risk management and operational flexibility to adjust appropriately in face of changes in technology and the economic and political situation.
The FSC will continue to promote financial supervision and FinTech exchange and cooperation with other countries to align Taiwan''s financial regulations with international norms and to enhance the international competiveness of Taiwan's financial industry.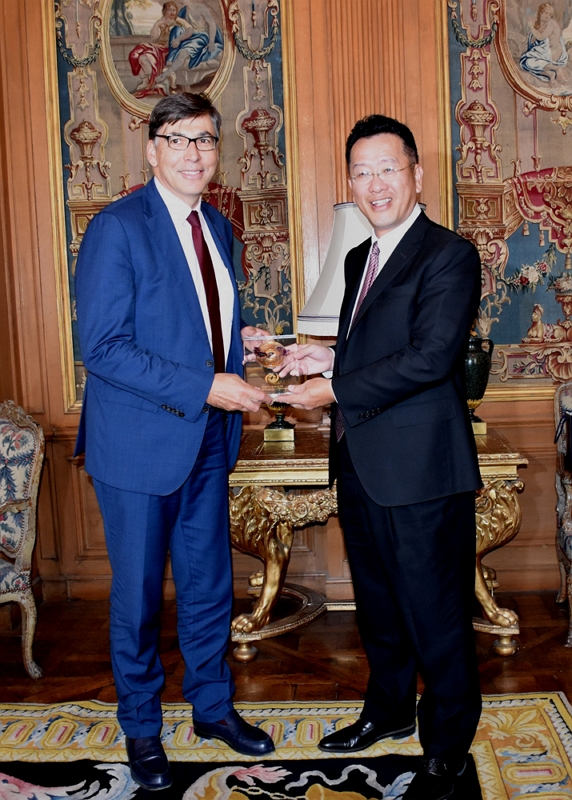 〔FSC Chairman Wellington L. Koo and Mr. Denis Beau, First Deputy Governor of the Banque de France and Chairman of the ACPR, signed the FinTech cooperation agreement on July 9th, 2019.〕
Department of International Affairs, FSC
Contact tel.:8968-0080

Visitor: 1253   Update: 2019-07-16