Taiwan and Germany Enhanced Cross-Border Banking and Insurance Supervisory Cooperation
2020-02-24
The FSC has been actively enhancing cross-border supervisory cooperation with financial authorities abroad, and has yielded concrete results recently. Dr. Jhy-Wey Shieh, Representative of the TAIPEI REPRESENTATIVE OFFICE IN THE FEDERAL REPUBLIC OF GERMANY, and Ms. Sabrina Schmidt-Koschella, Deputy Director-General of the GERMAN INSTITUTE TAIPEI, have signed on behalf of both sides the Declaration of Intent on Mutual Assistance and Cooperation. FSC Chairman Wellington Koo and Federal Financial Supervisory Authority (BaFin) officials jointly held the ceremony on February 20, 2020, laying down the foundation for further supervisory cooperation in the future.
BaFin is the financial supervision authority in Germany and one of the prominent financial regulators in Europe. It is an independent federal agency under the supervision of the German Federal Ministry of Finance and is responsible for the supervision of the banking, securities, futures, and insurance industries, including banks, insurance companies, and thousands of investment companies.
The Securities and Futures Commission of the Ministry of Finance, the predecessor of the FSC's Securities and Futures Bureau, signed in 1997 a memorandum of understanding in the area of securities and futures supervision with the Federal Supervisory Office for Securities Trading (later merged into BaFin). Due to increasing business ties of the banking and insurance industries between Taiwan and Germany, financial activities between the two sides have become closer. Therefore, this supervisory cooperation document is necessary to ensure complete coverage of financial supervisory cooperation between Taiwan and Germany.
In the banking sector, German banks have one branch and one representative office in Taiwan, while the Taiwanese banks have one representative office in Germany. Germany''s insurance sector has in Taiwan one insurance subsidiary, one branch and two liaison offices. The signing of this document will further strengthen cooperation of financial supervisory authorities between Taiwan and Germany, and facilitate Taiwanese banks to establish local presence in Germany.
This document provides for supervisory cooperation in ordinary banking and insurance matters, such as sharing of information on license authorization and administrative sanctions, holding bilateral meetings, identifying suspicious financial transactions, emergency notifications, on-site financial examinations and inspections, and information confidentiality, etc.
As of today, the FSC has signed 64 cooperative documents with 60 supervisory authorities abroad. The FSC will continue its efforts to enhance bilateral cooperation with other financial authorities to ensure sound operation of financial institutions.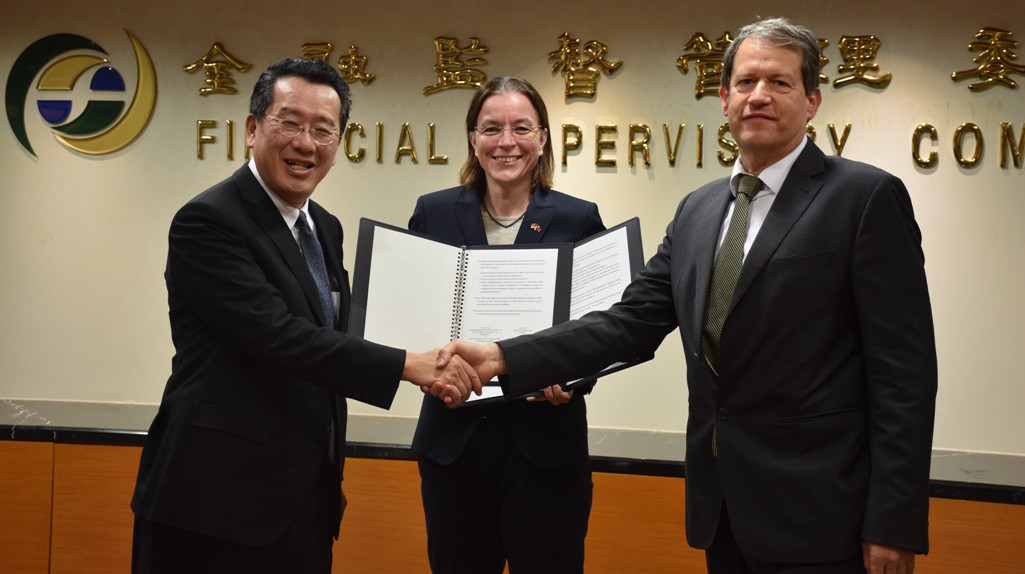 (FSC Chairman Wellington Koo (left), Ms. Sabrina Schmidt-Koschella, Deputy Director-General of the German Institute Taipei (Middle), and German Federal Financial Supervisory Authority representative (right) jointly held the supervisory cooperation declaration exchange ceremony on February 20, 2020.)

Contact: Department of International Affairs
Number: 8968-0834
Visitor: 519   Update: 2020-02-24